Monday 4th September 2023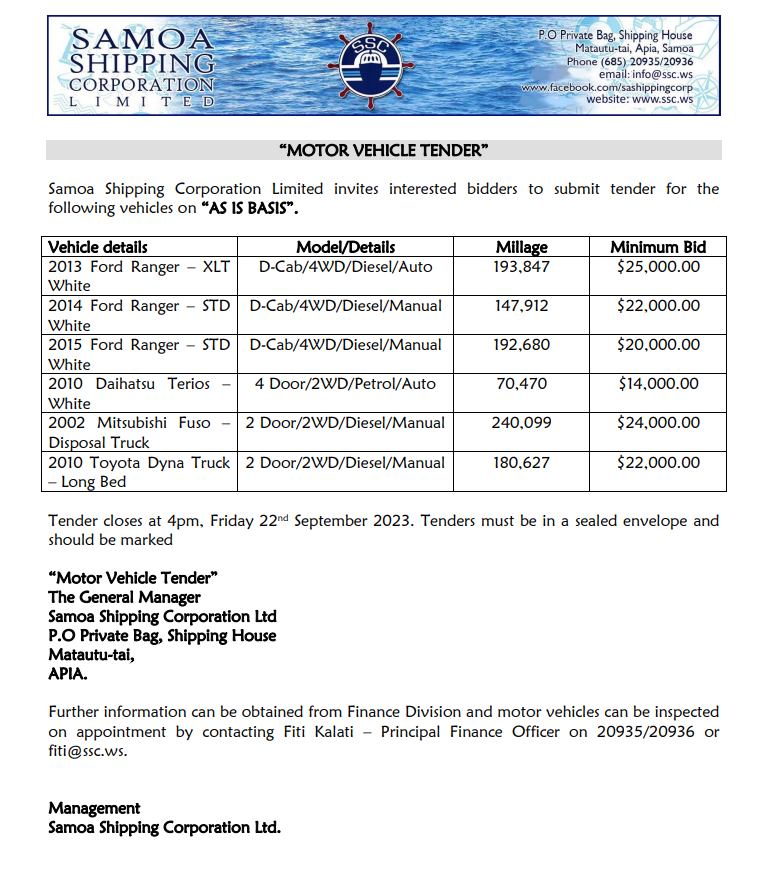 TUESDAY 11 NOVEMBER 2021

FAAMATALAGA O MALAGA:
Faatalofa atu i le paia ma le mamalu o lo tatou Atunuu femalagaa'i, ae faasilasila atu ma le fa'aaloalo mo lo outou silafia. O le aso Gafua 15 o Novema 2021, e nao le tasi le malaga a le va'a a le MV Lady Samoa III, o lea malaga o le a tuua ai le uafu i Salelologa i le 6 i le taeao mo le Uafu i Mulifanua. Ona fuafua lea e agai sa'o mai i le Uafu i Matautu mo lana siaki faapitoa mo le tasi vaiaso. O le MV SSC Fasefulu ma MV Samoa Express I o le a suitulaga i taimi o faigamalaga a le MV Lady Samoa III.

Ma le faaaloalo lava

VESSEL INFORMATION:
Be informed that on Monday 15 November 2021 MV LSIII will embark on her 0600hrs trip from Salelologa to Mulifanua and then to Matautu Wharf for the execution of her quarterly maintenance. MVSSC40 and MV SEI will substitute for all her trips during her 1week absence from sailing the Mulifanua- Salelologa route.
Any further questions please contact our main office for assistance.

Thank you